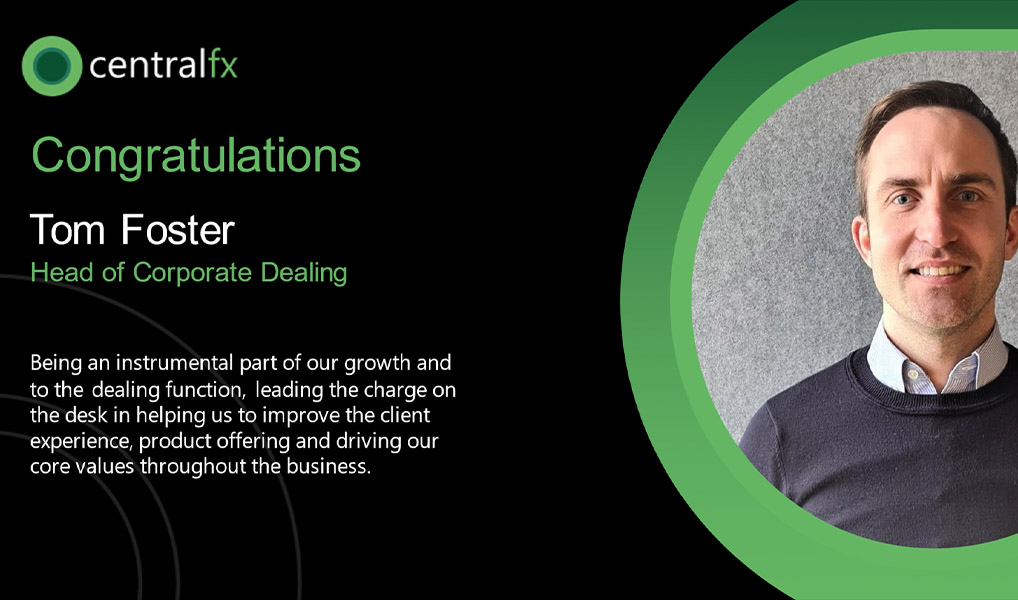 As part of Central FX's huge expansion plans for 2022, we are pleased to announce the appointment of Tom Foster as Head of Corporate Dealing. 
Tom has been an instrumental part of our recent growth and he has led the charge on the desk, helping us to improve the client experience, product offering and driving our core values throughout the business. 
" We act with integrity, being consistent in all we do. We are accountable and work as a team in collaboration with the upmost respect delivering excellence through innovation."
We are looking forward to this next chapter with Tom.
Adam Stark – Commercial Director says – "Congratulations to Tom Foster on his promotion to Head of Corporate Dealing. Tom has been an asset to the business since joining in 2017 and we are really pleased he is stepping up to help our Senior Management drive the business plan forward. Good luck Tom."
Tom Foster says – "I am delighted to be given the opportunity to help grow the Central FX corporate business. After a strong finish to last year, I am confident the team will continue to strengthen and achieve the ambitious growth targets for 2022 and beyond."